Zakera Kali's Eid Table
Zakera says:
I was inspired to create this collection as I have always wanted something similar for Eid to what is available at Christmas time in the shops. I walk through the department stores and love the Christmas decorations, the beautiful baubles glistening, and it just makes that time of the year feel special.
My mission was to create beautiful decorations that can be used again and again to build memories of celebrations such as Eid, Diwali, Hanukkah, and other cultural and religious festivals.  I wanted them to be family heirlooms, used year on year. As Eid will be in May this year, I felt that bunting which is a very British design would be lovely to have. However, I am also aware that Eid is all about food! Muslims love making and sharing food on Eid day. They will normally have a spread throughout the day as their friends and family will come to visit as well as a festive Eid meal either on Eid day or at the weekend when even more family members may visit. I felt it would be fitting to have a table runner that matched as well as a matching storage bag to store away the collection.
The collection is made from cotton and the bunting is double sided so it can be used at other special occasions throughout the year.  We used traditional techniques such as screen printing combined with modern machine embroidery and the print was inspired by one of our Ramadan cards which has a splatter on it and we felt was a timeless design. Using gold (thread and dye) is part of our brand handwriting.
The collection is being produced by our supplier in India working with a female collective and self-help group. This collective empowers women to earn an income as well as continue with their responsibilities within their extended families. This gives them financial independences which leads them to be able to make choices about themselves and their families.
We are so excited about the launch of our Eid bundle. We also love the Talking Tables honeycomb decorations as they look lovely alongside our collection. We hope that there will be households all over the UK celebrating Eid this year (and for the future)  who will feel special and build memories around our products.
Zakera Kali, Peace & Blessings
Eid al Fitr will be 2nd /3rd May 2022 and Eid al Adha will be 9th/10th July 2022. Both celebrations will be dependent of the sighting of the moon (Muslims follow the lunar calendar).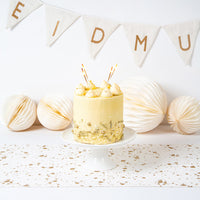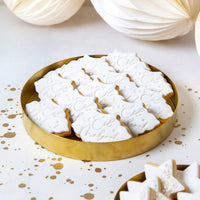 Get the look