Miriam's Pastel Table
Miriam says:
Inspired by the sorbet pastels trend that continues to dominate the fashion and interior themes this spring, I wanted to focus on combining mint green and parma violet, colours associated with wellness and comfort. The new spiral dinner candles, pastel napkins, mint green honeycombs, and pale pastel bunting lent themselves perfectly to this theme. I experimented with folding the napkins in a different way to add some geometric shape to the table which also made the ideal holder for the cute menus we printed for the occasion. I used local florist Blossom and Threads supplied for the beautiful bloom arrangements that were all in season and complimented the table nicely with plenty of fresh lilac and green shades.
We ate fresh salads for the savoury course and a delicious two tone cake supplied by a local baker for dessert.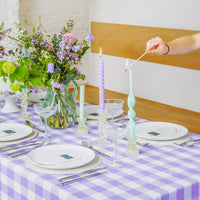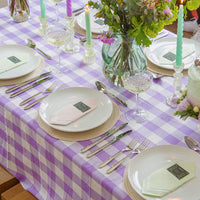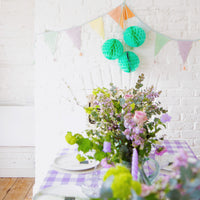 Get the look