Kelsang's mistletoe table
Kelsang says:
After the restricted lockdown celebrations of last year, I can't wait to be able to host my family again this Christmas. With this is mind, I wanted to create a Christmas table setting that reflects the love felt for my family members no matter how near or far away, whilst also having a stylish element to impress on the big day.
Inspired by the tradition of sneaking a kiss with a loved one under the mistletoe, I chose to use items from our Botanical Mistletoe range. With a beautiful silver and gold design, these Christmas decorations and tableware were great to transform my dining room – whilst also fitting in well with my existing Christmas decorations. I wrote the name of each of my guests onto a mistletoe place card and completed each table setting by adding a matching mistletoe Christmas napkin and eco-friendly Christmas Cracker.
With the essentials laid down, I moved onto the table centrepiece. To add some height, I scattered our delicate glass bud vases and bottle brush Christmas tree decorations along the centre of the table, weaving some gold berry lights in between for a twinkle of light. All that was left to add is the long-awaited Christmas roast dinner!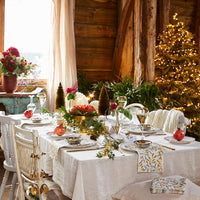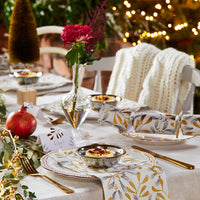 Get the look