Kelsang's Diwali Table
Kelsang:
The festival of Diwali is all about shining lights and bright colours to celebrate the victory of good over evil and to invite good luck into your home for the new year.
Marigolds are the flowers traditionally used to decorate homes during Diwali which is why we used the lovely flower garlands on the doorway and in our bud vases on the table. The beautiful honeycomb decorations are in typical festive colours of oranges and pinks which work very nicely for the look I was going for. Food is always a big part of any Asian celebration and our serving platters and plates have highlighted all the delicious nibbles on offer.
Finally to finish off the table, we add some of the lovely candlesticks and let the feast begin…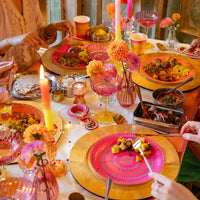 Get the look