Jasmine's sprout table
Jasmine says:
Whether you want a playful Christmas table, or something closer to the cottage core trend, there's so much you can do with this collection - I opted for an elevated, rustic, and wholesome dinner table.  
Before setting table, how to keep the little ones entertained? 
Using hand woven placemats and a neutral-coloured tablecloth, I had lay the blank canvas for a traditional red and green colour palette.  
Using Talking Tables' botanical sprout napkins, poppers and matching Christmas crackers, my vision was coming to life. I then chose to pair the sprout themed decorations with our bestselling dark green and deep red glass candle holders to add some height to the table. Lastly, my creative idea to use a few snapped branches off the bottom of the tree, some fish wire and a pack of twinkly string lights, I created a jaw dropping display above the table. Using some left over bauble hooks and our magnetic honeycomb decorations, the table was well and truly magical.  
I was just about finished, until the silly sprout side in me popped our little felt characters on each of the little one's plates. Perfect.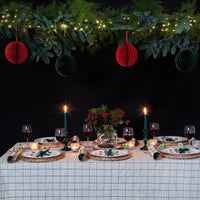 Get the look