Em's charity finds table
We asked Em, one of our favourite influencers, aka @The_Em_Edit, to take the eco-taining charity table challenge. Here's her inspirational story…
So here it is, my sustainable Midsummer's Supper in collaboration with the wonderful people at Talking Tables . Featuring charity shop joys from @emmaushullandeast @no87vintageretro and Autism Plus in Doncaster as well as the most stunning wild (not wild) flowers from the immensely talented @gatheredatdusk who grows flowers in a low impact way.

I did my upmost to stick to the following boundaries while shopping:
- Do I need this item/is it something that's going to be reused until the end of (my) days?
- Can I adapt something I already have to do the same job? E.g. the napkins made from a second hand pillow case and napkin rings made from curtain rings which I have in swathes.
-Is this multifunctional? (such as the candlesticks - look great on the table but also on the mantlepiece or around the bath).
-Am I contributing to something bigger than me when I buy this thing? (This also influences which charity shops I actually use in terms of their ethical values.)
-Is it reyt proper nice?
Here are my charity finds:
Dinner and side plates (£4.25 for the full set!)
Pink jug and basin
Coloured dessert glasses (used as Prosecco glasses)
Pastel coloured serving dishes (I picked up all 3 for £3.75)
Cranberry wine glasses
Green gingham table cloth 
Yellow velvet cushion covers
I already had the cutlery and cabbage leaf dishes (both originally bought new on the high street) all other serving plates/dishes were items I inherited or was passed by family members.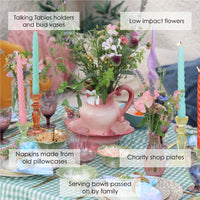 Get the look