Amber's Easter Table
Amber says:
This year, Easter will be a very special occasion as the last two years have not been quite the usual family get-together. For this table I wanted to create a bright and happy look full of positivity and fun to jump into spring. Our new bright block flower napkins were the perfect design to match this theme - the pink, yellows and red can't help but fill you and your guests with joy. I wanted my table to be as eco as possible and so these napkins worked particularly well as I knew they could be popped straight in the recycling bin after use. Better still, instead of using plastic in the packaging, an extra napkin at the front of pack is added to keep the rest clean.
I set the table for an Easter breakfast so included fresh fruit to match the bright colours in the napkin such as juicy oranges and found some delicious pastries from a local deli.
The brightly coloured mini bunnies worked perfectly scattered down the middle of the table with the white tree decorated in felt decorations creating the perfect centrepiece. 
I had these wonderful zingy coloured dried stems from a previous tablescape and so wanted to reuse them for this Easter as they fitted so well with the colour scheme. The new zesty yellow candle holders were also were the ideal match to the yellow daffodils in the floral napkin – a true spring table to bring some delight on Easter morning.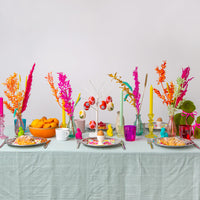 Get the look