Amber's bright Christmas table
Amber says:
For this table I created a Christmas breakfast scene with refreshing citrus fruits, tasty baked goods and Christmas morning mimosas! I began by selecting the Bright Trees Napkin and used this as a guide for the colour palette of the table. It's bright, warm tones are a fun break from tradition, and a great representation of the excitement of Christmas morning.
On special occasions my family will often have grapefruit and croissants for breakfast, so I wanted to incorporate this little tradition into my table. Our Stainless-Steel Bowls are the perfect size for grapefruit halves and the Boho Mango Wood Serving Platter provided a great centrepiece to display the croissants and other sweet treats.
In line with the colour scheme, I picked out the pink and orange glass candle holders and paired them with the Boho Spice Pink & Orange Dinner Candles. The colours are really vibrant and I especially like how these pieces could be used anytime of the year.
Blossom & Threads, a local florist, delivered a beautiful bouquet of bright stems which perfectly complemented the theme. These striking bouquets are displayed in our Bud Vases and really bring the whole look together.
I love how this table blends the natural, rustic textures of the Mango Wood Tableware with bright, modern accents for a look which I feel is cheerful, fresh and inviting!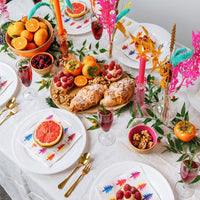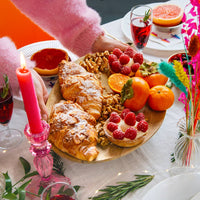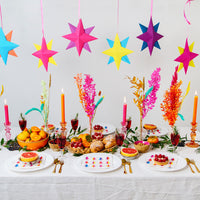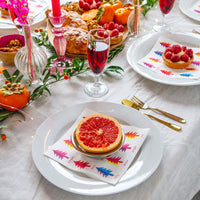 Get the look